Klankwerk teamed up with NoComputer & Barco to give TedX a cutting edge generative visual and Sonic Branding.
We created a modern electronic brandscore that reflected the innovative character of the event.
Next to the brandscore we also created a generative soundscape based on the brandscore elements.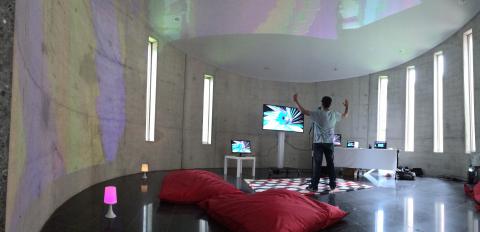 We build a soundbooth where the attendees of the event could manipulate the soundscape using their voice. This voice data also enabled our partners at NoComputer to create their unique generative branding.
This generative and sonic branding gave visitors a solid and consistent TedX experience.
Add to that the impressive projection screens from our partners at Barco and you get a result that far exceeds the sum of all parts.
TEAM (Massive thanks!)
- Tedxghent.be — Niels Van Kets & Ruben Ruben Verhack
- NoComputer - Gwen Van Hee & Wim Vanhenden
- Bitstream.be, Production — Bavo Loccufier & Steven Wydhooge
- Barco.com, Hardware — Reggy Mortier, Wim Vandamme & Augustin Grillet